---
Mini Album | Fundamentals & Year In Review with June
by Erin Yamabe | June 7, 2014
This month's featured products are Bella! Year in Review and our Fundamental Cards. If you are wondering what other projects the Fundamental Cards can be used for other than just making greeting cards, stay tuned.
For today's project, I've used a Fundamental card as my mini album cover.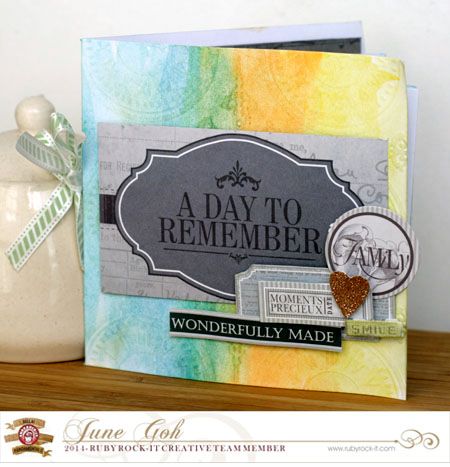 Instead of using the card as it is, I painted it with some water colors and then rubbed brown ink all over to allow the embossed images to stand out.
The stickers from Bella! Year in Review are perfect for the inside pages. Here are some pictures of the inside of the album:
Here are the list of supplies used: RRBF Bella! Year in Review Collection Fundamental Cards - Steampunk (Square) Spellbinders Spellbinder Die - Snapshot Spellbinder Die - Ribbon Banners
Don't forget to sign up for our RRBF newsletter. This way you will not miss the latest news and updates. Looks for the link at the bottom of our main page that says "Newsletter Subscribe ..."
Cheers,