---
Tuesday Tutorial | Holiday Tags with June
by June Goh | December 10, 2014
Hi RRBF fans, it's Tuesday and it's June here with a quick gift tag idea. First you will need: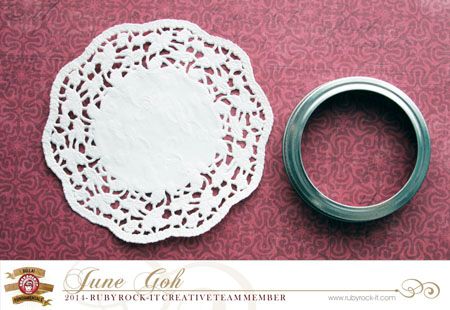 a. Pattern paper for the base of your tag b. One paper dolly c. A mug or a mason jar top Steps: 1. Using tape glue or a spray-on
adhesive, and adhere doily onto selected patterned paper.
2. Using the mug or the jar cover as your template, draw a circle on the paper with a pencil. You could fold your patterned paper into half before tracing the circle over the tag.
3. Now you have the basic tag, start decorating. Here I have decorated both my tags with ribbons and chipboard elements from the Joyeux Noel range.
RRBF Supplies: Joyeux Noel - Chipboard Joyeux Noel - Ribbons Joyeux Noel - Paper Packs
Thanks for stopping, we will be back again with more inspiring designs from the team!
Cheers,