---
Tuesday Tutorial | Shaker Card Video with June
by June Goh | December 3, 2014
Hi RRBF fans, it's Tuesday and it's time for a quick tutorial. I made some shaker cards last month and thought it would be fun to share the steps with everyone. First, lets get all the materials ready.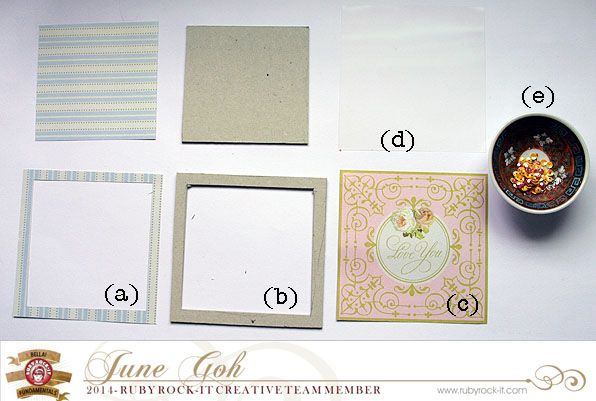 You will need: a. Pattern paper for the top frame of your shaker b. Chipboard c. Base image for the shaker d. Clear acetate e. Glitter or Sequins Steps: 1. PIck an image from your patterned paper for the base image. For this project I choose this lovely image from RRBF's My Romance line. 2. Cut the chipboard, acetate and top frame to the same size as your base image. 3. Leaving a 0.5" to 0.75" border, cut out the middle sections of your chipboard and top frame just like the picture above. 4. Make a sandwich with the base image at the bottom, followed by the chipboard frame, acetate and top frame. Check that all layers align correctly before we start gluing the shaker together. I use a wet glue for this project as it allowed me to move the pieces around a little before everything bonded together. Here is a video showing how the layers should be assembled.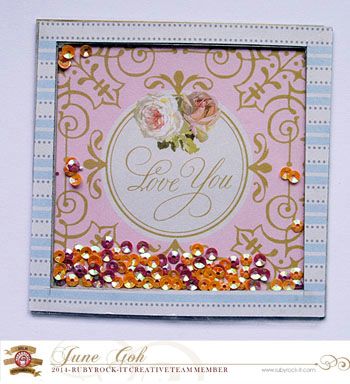 I used the shaker on a card and here are some closeups of the card: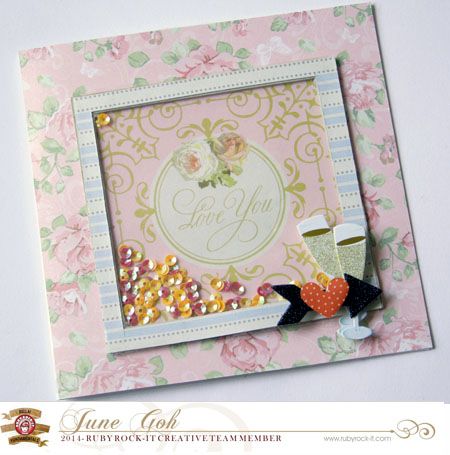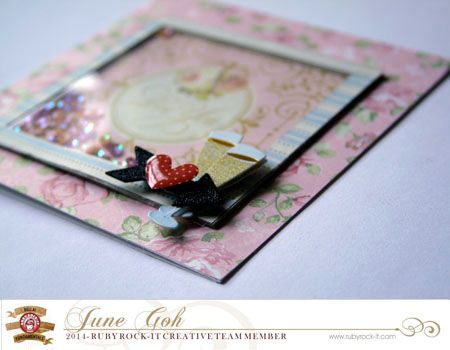 RRBF Supplies: Mr Romance - My Snippet My Romance - Traditional My Romance - Floral Bella - BWD97 - Wedding Stickers Freckled Fawn Supplies: November 2014 OHDEERME Kit
Thanks for stopping by the Ruby Rock-it blog today. Stop by again tomorrow for more inspiring designs from the team!
Cheers,