---
[W] on Wednesday | Life Is Sweet
by June Goh | February 5, 2015
Hi RRBF fans, it's June today sharing with you another of my reasons to scrapbook. I love playing with all lovely scrapbook papers, tools and embellishments. It gives me an outlet to be creative. Of course having a reason to purchase lovely stash is always good. Here is the layout that I want to share today. The back ground paper is from our new wedding line called "Rustic Charm". It's so dreamy and the mix of colors remind me of an abstract piece of art.
Here are some details...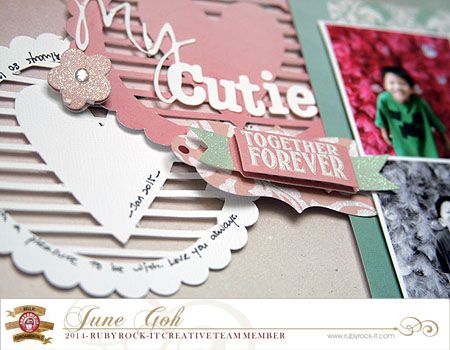 I love how handy the mini paper pack is. I used them to pack my photos and they are a great size to run through the die cut
machine.
RRBF Supplies: Rustic Charm - Mini Paper Pad Rustic Charm - 3D Sticker Rustic Charm - CutOuts Rustic Charm - Framed
Thanks for stopping by the Ruby Rock-it blog today. Stop by again tomorrow for more inspiring designs from the team!
Cheers,